We have another shelf.
We've just gone through the shelf of all shelves, the "what we read this year" shelf. We also have a "to be read" shelf. This isn't the books we necessarily want to read first; these are the books we've bought in the past year. And it's time to clean it out.
We're going to be taking off any books that have sat there a year or longer; it's not that they're bad books (or at least we don't know that at this point), but if they've sat there that long, it's time to take them off. There are other reasons to remove books, too, which we'll see. For this final "A year of books" post we'll be looking at what's getting removed from our "to be read" shelf, and why.
Oh, organization on this one? Um, yeah. There isn't one…
The Court of the Air
by Stephen Hunt
Reason: Was on shelf for over a year
We both wanted to read this one. The back describes it as "If Charles Dickens and Jack Vance had ever collaborated, they might have written this book." That just sounds fantastic. We just were never in the mood to read it. We're keeping it, though!
Time Twisters
Edited by Jean Rabe and Martin H. Greeberg
Reason: Was on shelf for over a year
This one was Jon's. He read enough anthologies this year; he just never got to this one.
The Mark of Zorro
by Jonston McCulley
Reason: Was on the shelf for over a year
Jon loves Zorro. He grew up watching the old black-and-white Disney version and the 90's Family Channel version. He wanted to read the original. Just… never got to it. That's one that will get read eventually, though!
The Clockwork Three
by Matthew J. Kirby
Reason: Was on the shelf for over a year
Helen read a few others in this vein and just never got to this one. She may pick it up next year!
Arena
by Holly Jennings
Reason: Was on the shelf for over a year
Jon read a bunch of books in this vein. He expected it to be young adult, only to find it seemed to be aimed at adult audiences. That's certainly not a bad thing, but when you're expecting YA, it was a bit jarring. He set it down after two chapters and never picked it up again.
Hollow Earth: Bone Quill
by John Barrowman and Carole E. Barrowman
Reason: Was on the shelf for over a year
This one is book two in a series. It's written by Doctor Who's Captain Jack, so it should be awesome, really. The concept is fantastic – there are certain people that have the ability to make what they draw become reality. Jon just never got there. He's going to keep an eye open for book one, though…
The Mad Mask
by Barry Lyga
Reason: Was on the shelf for over a year
Yeah. This one's also a book 2. We also had other superhero things we read this year. Just… never got to it. Lesson learned: Don't buy too many of the same sub-genre at a time!
Myths and Legends: Troy
by Si Sheppard
Reason: We haz double!
This series is a lot of fun! We accidentally picked up two copies of this one, though, so this copy goes!
Harry Potter and the Sorcerer's Stone
by J. K. Rowling, Illustrated by Jim Kay
Reason: We already read it
Helen picked this one up today for fifty cents. Yeah, the really lushly illustrated version. Library sales are wonderful. We've both already read it and we don't feel the need to reread it,but man. It's so nice having this edition. It's pretty! And now, maybe we can finally force our kids to read it!
The Shadow Within
by Karen Hancock
Reason: Oops! We don't have book 1
I thought it was one thing; it was something else. This is book 2. I don't think I'll be reading this… maybe ever. Serves me right for not reading the fine print. Sigh.
We always search to "fill in the holes" of series we have. Every other removal from our "to be read" shelf from this point on is because we bought a book to fill in a hole… but maybe we haven't read that far into the series, or we're missing a book between where we are in the series and this one. It's frustrating.
Ramage and the Guillotine
Ramage's Mutiny
by Dudley Pope
Jon read the first in this nautical series and loved it. But we never see the books in used book stores! So when he spotted these at a local Goodwill, he snatched them up! Alas, they're books six and eight. It'll be a while before we find enough to fill in the holes…
The Shadow Dragons
by James A. Owen
Jon read book one in this series and loved it. Just fantastic fantasy tying together a whole bunch of fantasy worlds. I guess you could call it metafiction. A few writers are given responsibility to care for the atlas that shows how to get to any fantasy realm. Great stuff! This is book four, though, so yeah. We need to get the others to fill in the holes.
Interview with the Vampire
by Anne Rice
Helen read a friend's copy "forever ago." (Best not ask how long ago that is.) Helen owns the sequel, but never had this one in particular. Now she does! But she doesn't need to reread it.
The Wake of the Lorelei Lee
by L. A. Meyer
Jon read book one of this series, was confused by it, but wanted to read on. We now own the first eight or so (this is book eight), but Jon hasn't read past book one. He should really get on that. Bloody Jack is the series; it's about a girl joining up with the British Royal Navy. Bad things happen. She becomes a pirate. Adventure at sea. You know, the normal.
Rain and Fire
by Chris and Jay D'Lacey
This is a companion to the Last Dragon Chronicles. Helen's read the first three books in the set. This book is about fiction, which she loves reading. But… she's afraid of spoilers in this book, so she needs to read the other four books before she gets to this one.
New Spring
by Robert Jordan
Jon's read Wheel of Time through book six. If he's going to reread it, though, he's starting over at book one. Which means the likelihood of getting to the prequel (which should be read between seven and eight…?) within the next year is unlikely. So, off the to be read shelf!
How to Speak Dragonese
by Cressida Cowell
We keep an eye open for How to Train Your Dragon novels – the original series, not the ones based on the movies. They're perfect reading for ten-year-olds. This one is book three; Jon hasn't read book two yet. He should really get on that before his children read them.
Undivided
by Neal Shusterman
Oh. If you haven't read Unwind yet, you really need to. A frightening dystopia about a world where it's legal to "unwind" teenagers. This book is the fourth (and final) in the set. Jon's not read book three yet. It's dark, and Jon needs to be in a certain mood to read them. So it'll come… just not yet.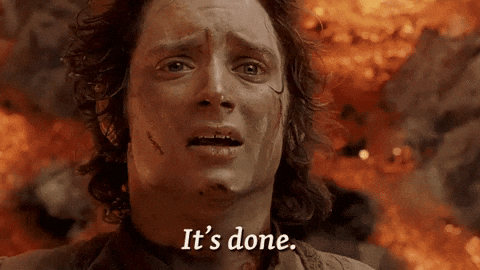 Well, that's it! That's a year of books with Jon and Helen Mast! Join us next year, when we, um, read more books. Do you have a To Be Read pile? Shelf? How do you decide what goes in it, and when do books get removed? Let us know in the comments! If you're, you know, still with us.